Welcome to my site, I'm Anthony Hobbs I like playing games, but depending on the type of game; First of all I like games better on the computer, secondly on systems,
lastly on mobile. And even though I don't watch YouTube much my favorite channel is
Good Mythical Morning
By:Rhett and Link
They also have music videos and songs available on iTunes; like
I Am A Thoughtful Guy
, and I'm On Vacation.
(You Should Look 'Em Up)
Powered by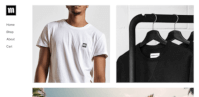 Create your own unique website with customizable templates.